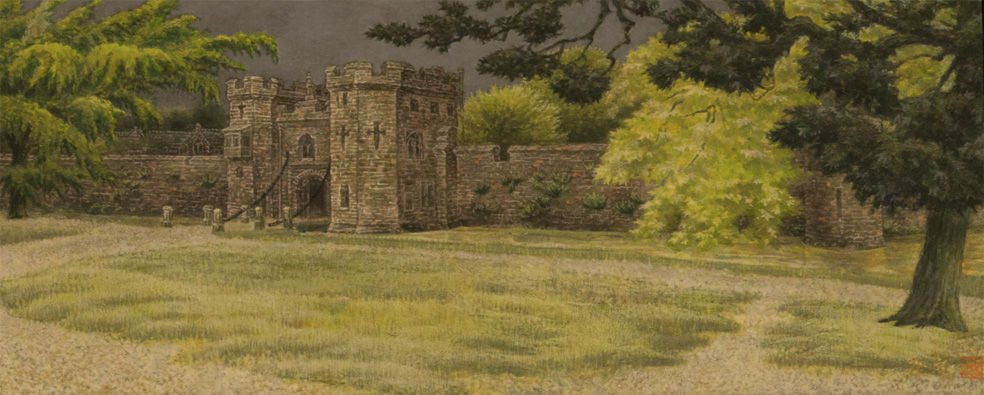 日本画家 永都 叶千 ー Nagato Yasuyuki ー
He was born in 1956 in Chikusa-ku, Nagoya. At the age of 4, Yokoyama Taikan's "The Wheel of Life" picture scroll had a big impact on him and was a major influence on his becoming a Japanese-style painter.
Through his creative work, he aims to fuse two opposing sensibilities, the "classical Japanese sensibility" from before the Edo period and the "modern Japanese sensibility" as it was changed by Westernization.
In recent years, he has created an original mixed technique of painting in which Japanese painting materials and Western painting materials are combined to form a whole.
Beginning in 2016, he uses the name Yasuyuki in his creative activities.
略歴
1956年
Born in Chikusa-ku, Nagoya.
1980年
Studied under Professor Tamako Kataoka.
1985年
Graduated from the graduate school of Aichi University of the Arts(Japanese paintings)
Participated in the team of Yoshihiko Yoshida in Aichi University of the Arts' "Reproduction of Murals of Horyuji Temple".
Studied reproduction under Jo Tanaka.
1998年
Participated in restoration and reproduction of Nagoya Castle screen paintings (until 2004)
1999年
Solo exhibition (Paintings of Tobu Department Store, Ikebukuro gallery), since held six times.
2009年
October: Solo exhibition (Kintetsu Department Store, Yokkaichi Store gallery), since held five times.
2013年
June: Solo exhibition at the Paramita Museum.
2014年
January: Solo exhibition (Matsuzakaya Main Store gallery)
2015年
December: Received an "Inspirational Person" award from the Takeshiro Matsuura Memorial Museum.
2017年
March 7-12: 2nd Nagato Lecture Alumni Exhibition